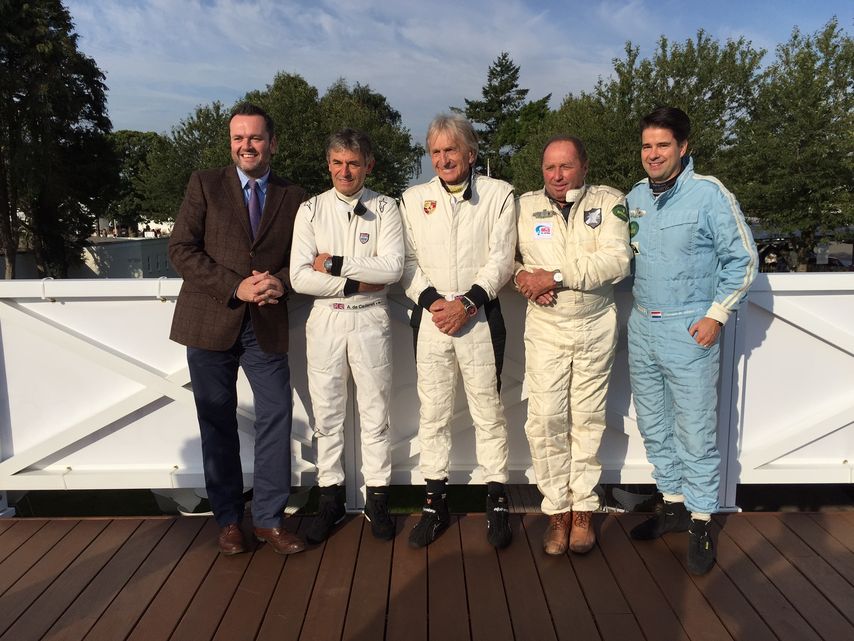 Dear Henry
I heard the terrible news on Friday morning from a common friend at Goodwood. First the shock, then the tears. The whole time this "No, no, no, this can't be true". I called him but he confirmed: Motorbike accident the evening before. On the way back from Goodwood to your home. The motorsport community in shock. 
Somehow I feel I do not have "the right" to write these lines - I do not have a clue about cars, cannot judge the brilliancy of your expert comments. I am neither friend nor family nor anything which comes close to this. But I have had the privilege to meet you and get immediately and every time again captured by your humour and charm. I come up to 7 meetings in my life between 2013 when you moderated the Historic Racing Forum in Goodwood for the first time until 2016 when we did the last one. I now no longer regret that we discontinued it. Without you it would never be the same. Alain, Jochen, Derek, they will suffer with me. Their youngest has gone. 
Among the many photos we have from you and the legends, I took one of you in Monaco in 2016 when you walked around the paddock and discovered this poster with all Grand Prix of Monaco winners since the beginning. While you turned the back to this poster, I had to be the quiz master and ask you for the winners of the various years. Not the tiniest mistake of course. Can't find the photo any more, what a pity, you had that typical boy's smile of pride and happiness about winning the competition. 
When you came to Race Control you were always asking for chocolate. You used to pop in between your commentaries during the Revival fishing for our wonderful milk chocolate. And when on Revival Sunday evening you said good-bye and I handed over more chocolate for you and the boys, your eyes were sparkling. I have to admit I have never been happy to hear that you were riding home by motorbike. But this is a naturally born female fear. 
So let me say good-bye to you one last time, dear Henry. It has been a privilege to meet you and touch a bit of the magic you gave to people. Don't make jokes about this, I have read the condolences your friends and colleagues made. And no, I am not alone with this deep sadness of you rushing away - and the realization of what a gifted human being we have had the luck to know. 
Facebook friendships don't count but I am grateful that I could follow you and your many happy moments in a much too short life. You celebrated your beloved wife, featured your Junior Team, got the #Fever for anything racing and related - Ed Foster called you a "blizzard of energy", how true I find this!
I read the message your wife wrote to you. It touched me so deeply. Strangely it has consoled me a tiny little bit. Your magic will live on in your family.
Thank you for everything.
Love
Bettina